Cross Platform APP Development Company In USA
USM Business Systems is a prominent leading cross-platform development company in the USA, which is offering multiple platforms and cross-platform mobile app development services. We are on the top of the ladder in providing cross-platform services with adequately emphasized and quality rich apps. Our development team is involved in the mobile application development right from the beginning to the end that is from requirement gathering, design, development, testing, and deployment. This formula is beneficial in developing scalable, robust, high-quality, interactive, attractive, and top-notch applications that run on multiple mobile devices.
Cross-platform mobile development attributes to the development of various mobile applications on multiple mobile platforms. The development process involves building a specific app for a particular platform, but then it deployed on all native platforms. Everyone knew about the simplicity of cross-platform app development by using the basic programming languages HTML, CSS, and JavaScript. To make the development process easy, we have so many robust and adaptable cross-platform app frameworks & development tools to develop feature-rich mobile applications.
Our development team is very successful in developing cross-platform apps that too on the mentioned time slot. USM uses some of the famous and straightforward technologies like artificial intelligence for the development of cross-platform apps that runs independently of mobile operating systems (Android and IOS).
Are you planning to develop a cross-platform app and looking out for an affordable mobile development company?
Partner with us. We provide you quick analysis and free proposal for it.
We help you in transforming your innovative idea into a beautiful cross-platform app that keeps you ahead of your competitors.
Frameworks for the cross-platform app development
In the market, you can see various cross-platform frameworks, but now we are going to the top tools that we are going to use to develop cross-platform apps. Continue reading.
React native is a simple and open-source framework that can be used efficiently for building mobile applications.  It is one of the most triumphant and used structures for the development of cross-platform apps, which was developed by Facebook. It helps in developing cross-platforms so effectively just by adding and deleting according to the native apps.
It is the famous and standard framework used for developing and deploying beautiful cross-platform progressive and web apps with ease. It's built on top of Apache Cordova and AngularJS, and it also helps in developing apps by using the latest web technologies such as SAAS, HTML5, and CSS.
Xamarin is the framework developed by Microsoft used to create cross-platform apps across multiple platforms such as Windows, Android, and IOS. It uses C# and .Net to provide user-rich experience.
Cordova is an open web technology used to build eye-catching cross-platform apps. It is the most famous framework to craft hybrid apps. It is previously known as PhoneGap. Cordova uses web technologies like HTML5, CSS, and JavaScript.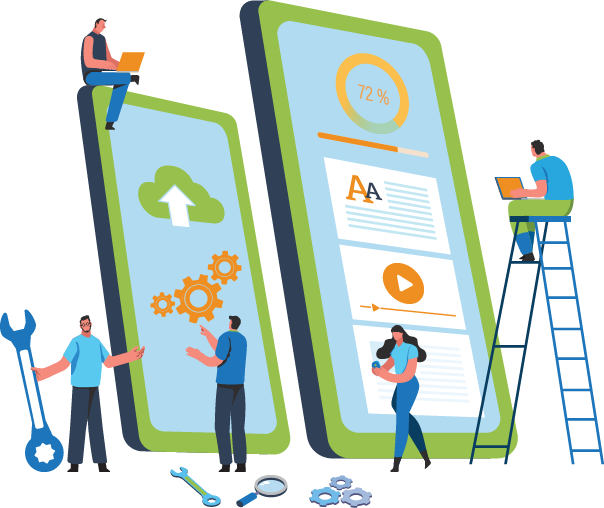 USM offers various development services under the cross-platform. Let's have a look at the services that you can avail from our end are:
Cross-platform app development.
Multi-platform app.
Custom cross-platform app design & development
Enterprise cross platform apps.
Cross platform app migration.
Cross-platform support & maintenance
Benefits of Cross-platform app development
You may get a doubt why one should opt for the cross-platform app development when we have native, hybrid, and web apps?
These benefits give you the clarification of why one should choose cross-platform for developing mobile apps.
Cross-platform works based on the theme of write once and use multiple times. It helps remove repetitive tasks.
It is the reason most of the developers and companies are opting for cross-platform development rather than others. It reduces the development time by 70-80% across all the projects with the reusability of code. It helps development companies to deliver the project on the mentioned time slot.
The cost of development across multiple platforms makes companies uncomfortable, which leads to discouragement. Cross-platform support single code on various platforms leads to cost reduction and saves a lot of energy too.
It offers easy deployment compared to other types of apps. It provides an extension that integrates with the other tools to improve the apps look and functionality.
The single platform-specific code utilized for building a cross-platform app that helps in maintaining the overall consistency of the app on total platforms.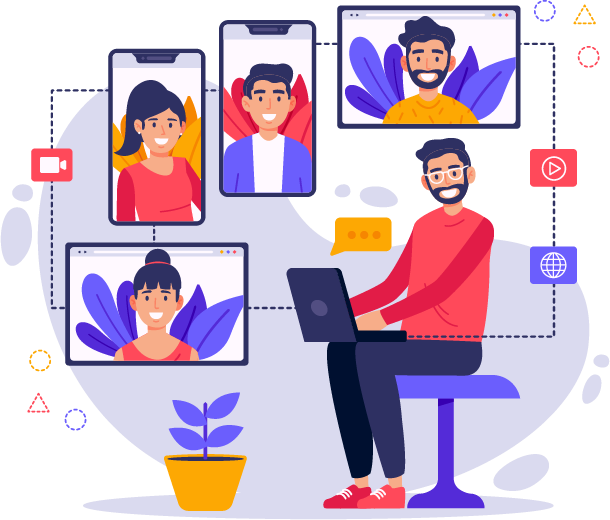 Technologies We Serve
Front-end development: HTML, CSS, Angular, JScript, JQuery and  React.js
Back-end: Node.js, Python, PHP, Dot Net and Java
Database: MySQL, Firebase, RethinkDB, MongoDB, PostgreSQL
UI/UX: ADOBE PHOTOSHOP, ADOBE ILLUSTRATOR, ADOBE XD, ADOBE AFTER EFFECTS, CSS3 HTML5, Sketch and Zeplin
Web technologies: Word press,  Ruby, Woo, Joomla, Node.JS, Laravel, CakePHP, Drupal, YII2, ZEND, Magento, Open Cart, Zen Cart, Prestashop and Golang.
JavaScript framework: Angular, React native, Jasmine.JS, Quorra.JS, Chai.JS, Mocha, Hapi.JS, Meteor
and Vue.JS.
Industries We Serve
The Future Of Industries Is AI-Enabled!
Why not you turn your business to Custom app from now?
Cross-Platform App Development Process
We don't take your Cross-platform app development for granted. We take care of every step, whether it is pre-production, production, and post-production.
USM follows step by step procedure to develop every mobile game to provide a seamless experience over multiple devices.
We delivered many successful cross-platform apps to a significant number of clients by following the fine-tuned development process.
How we build Custom apps successfully?
Initially, we research and understand the market & competitors.
We concentrate on offline experience apart from online.
We develop user-friendly apps with easy navigation and flexible layouts.
We build compelling UX & UI.
We support multilingual with localization.
We do all sorts of testing based on the app.
We develop easy to use AI solutions for your complex business risks and strive to improve your business efficiency in real-time.
Why USM for Custom mobile app development?
USM Business Systems provides services in such a way that we convert our one time client into our loyal customer. We give our utmost priority to our clients to deliver quality services and support even after the delivery of the project.
100% Customer satisfaction
24*7 Customer support.
Security & confidentiality
Prefers the agile development life cycle
Flexible models, pricing
High-level programming standards
Expertise across multiple technologies
Any crazy idea running in your mind?
Ready to Build Your Way To Engage Customers With AI Enabled Cross Platform Applications
Al Ansari Exchange
The new app has tons of great features, like sending money using QuickSend, multiple payment modes, instant transfer or normal, currency calculator, rate notification, branch locator, navigation, and more refined controls on sending money (to name a few…).
Al Ansari Exchange is one of the biggest exchange companies in the UAE that deals with the currency exchange and remittance service requirements.
Abar Hail Water
Abar Hail helps the public of the Kingdom of Saudi Arabia order Abar bottled drinking water through their mobile.
The app allows to choose between various delivery locations, the date and time of delivery. Customers can pay through cash on delivery or online. The app represents Abar Hail Water company.
View More