6 Best Mobile Apps That Let You Work On the Go!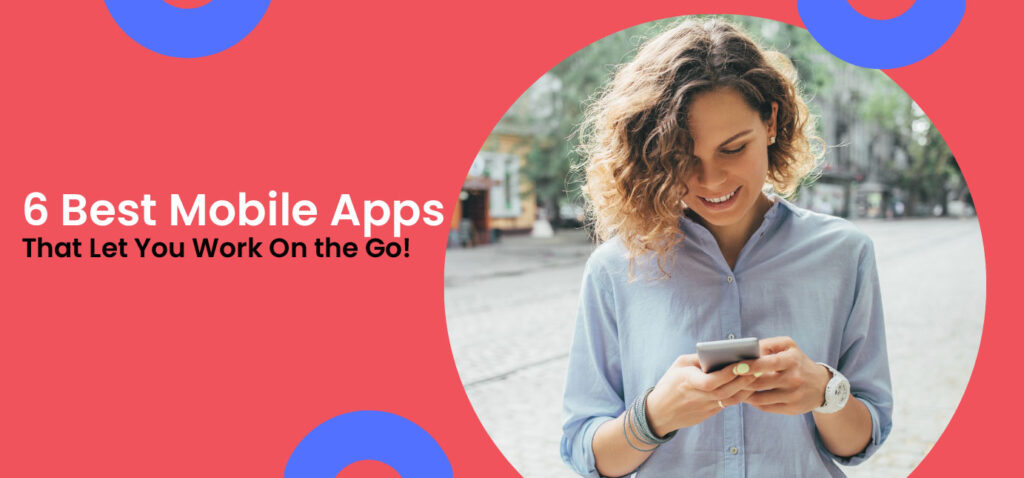 6 Best Mobile Apps That Let You Work On the Go!
Before the development of connecting mobile applications, business professionals need to visit office space to track the productivity and performance of resources. But, nowadays, innovative mobile applications are reducing pressure on businesses. The mobile apps helping them to connect and share their views with their staff to meet the business needs.
Herein, we have curated a list of the revenue-boosting mobile apps that assist businesses in increasing productivity and reach objectives.
Evernote
Evernote is one of the best business-centric applications that is used for taking notes and well-organizing and managing tasks. Since the application well synchronizes your data on all devices, you can continue the task on the go. It also allows users to access Google Calendar and track to-do lists schedule.
Users can also take clips of blogs or any other web content and read them at their convenience. One can add photos, drawings, web clips, and many more to notes. It also enables users to check their frequently opened data list on the Home dashboard.
This mobile application is also best useful for scanning and organizing invoices and bills in the form of notebooks.
Further, for business professionals, the role of the Evernote app is incredible. It allows professionals to share meeting notes, project details, and business development ideas together.
The free version with basic features is available on both the Apple app store and Google play store, and the subscription for premium features ranges from $7.99 per month and for business $14.99 per month.

Read more: How Much Does It Cost To Develop An App Like Instagram?
Google Drive
Google Drive application is one of the best places to upload, store, and access files, photos, and other documents at any time from any device. With 4.3 out of 5 ratings and 5 billion downloads, Google Drive stood as the best application that can be used for both business and personal purposes.
This mobile application lets users store or share 100+ types of files seamlessly. Users can also share their thoughts and views of files and get alerts to connected mail ID regarding comments on files.
Through its "Recent" feature, users can quickly view recently shared files from team members or friends. The best thing about this application is that users can receive alerts on file edits and view their content on the go, even in offline mode. This intelligent application also allows users to use the device's camera for scanning hard copies.
For businesses, Google Drive will assist in sharing documents or folders directly with teams in seconds and makes the tasks get accomplished faster.

Dropbox
Dropbox is the best cloud storage app available for Android and iOS. This application helps in uploading files to the cloud and allows users to share or give access to files stored on the cloud with teams all the time. It facilitates users to share large documents, photos, and videos.
Dropbox is the best cloud storage app available for Android and iOS. This application helps in uploading files to the cloud and allows users to share or give access to files stored on the cloud with teams all the time. It facilitates users to share large documents, photos, and videos.
This application gives ultimate cloud backup to individuals and saves space in their devices by quickly uploading photos and videos. Besides, this application is also best to scan and convert .doc and .jpg files such as receipts, IDs, photos to PDFs for easy sharing.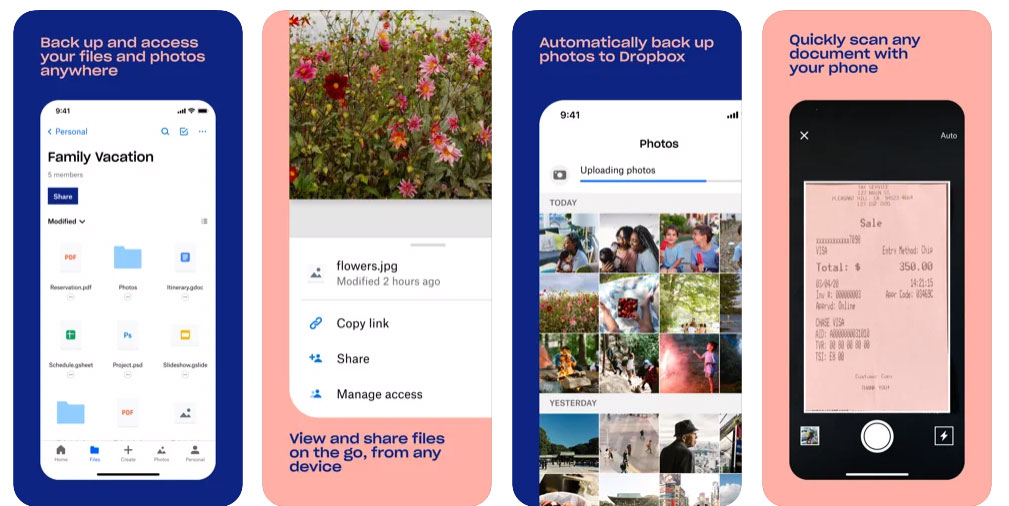 Read more: How Much Does It Cost To Develop A Popular UK-based Rider App Like Gett Taxi?
Just like google drive, by copying the file link in Dropbox, users can send extremely large size files with simple clicks. It is easy to sync and access files from laptops, desktops, and even mobile. The users can also protect their confidential files by locking them through setting a PIN.
For businesses, the Dropbox premium version helps to store all project-related documents and transfer them to the team in an efficient manner.
Do you wish to develop a Dropbox-like cloud storage application?
Let's Talk and know the development cost of cloud storage solutions for businesses.
Mailchimp
Mailchimp is a popular mobile app marketing platform. This CRM application helps businesses go digital and smartly clutch more leads. It helps marketers create and edit campaigns, track account activity, and view analytical reports on the go. It is also an ideal choice for a marketer to add new customer contacts directly from the mobile device.
Further, it also assists marketers to address the best solutions for customers who left their pipeline and opens new doors to create more sales.

How Is Mailchimp Beneficial For marketers?
Marketers can monitor potential customers' data with Marketing CRM from Mailchimp.
Marketers can get deeper insights into sales and marketing performance on the go.
Businesses professionals can create and schedule email marketing campaigns and send newsletters to prospects from a single platform.
Enterprises can also create and publish ads to the targeted audience.
Engaging potential customers through Mailchimp is a hassle-free task for businesses.
The app also suggests and recommends business tactics to marketers for improving sales and marketing performance.
The app helps to create brand visibility in the market.
For e-commerce, the app helps in reminding customers about the products in the cart.
Google Translate
The best application for instantly translating typed and printed text in different languages. It can translate nearly 108 languages by typing and also converts printed content on images in nearly 90 languages. The coolest feature is that it can also translate a few selected 59 languages in offline mode.
It gives users the feasibility to type and translate the text and allows them to scan and convert printed content on images into their native language. Users can also upload a document and translate it as of their choice.
It also allows users to translate the text via the camera for higher-quality translations. Users can also translate direct conversation into 8 languages.
Read more: How to Build a Restaurant Reservation App Like OpenTable?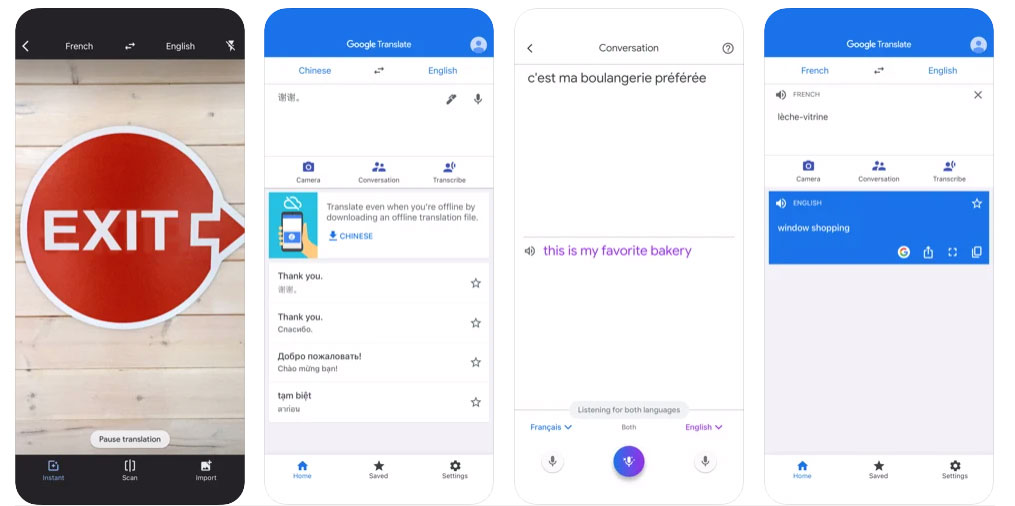 The app is available on the Apple app store for iOS users and Google Play Store for Android users. It is also compatible with Windows.
How much does it cost to develop a Google Translate app for Android/iOS?
Buffer
Buffer app enables users or groups to schedule and manage their social media. This free app requires IOS 7.0 or a later version to ensure seamless performance. The coolest thing about this application is its high-speed file or content sharing ability. Users can schedule posts and manage content performance on multiple social media accounts from a single platform.

What will the buffer app do?
Users can share multiple Facebook, Instagram, Twitter, Pinterest, and LinkedIn accounts from the Buffer app.
Schedule posts and be available on all social media accounts. Hence users can increase followers.
The app sends alerts on every update on social media content
Users can view scheduled social media posts in one place and look over their performance on different channels.
Automatically drops your posts on accounts and also customize the timings of your choice.
These are a few best mobile apps helpful for business professionals and individuals for managing daily tasks and for other business purposes.
Read more: How Much Does it Cost to Develop A Chatbot App?
Conclusion
Mobile app development is changing the face of modern businesses and opening doors for growth opportunities. Innovative mobile apps are becoming more powerful, interactive, and more dominant. They are helping businesses reach a broad range of their target audience in a faster and efficient manner.
Want to connect with potential customers? Want to track sales performance? Want to manage travel expenses? Everything can be done through mobile apps. Mobile apps development is the all-in-one solution for meeting your business goals.
Connect with USM, the best mobile application development company, and let us know your app ideas.
About USM Business Systems
USM Business Systems is one of the leading mobile app development companies in the USA and India. We are specialized in the development of bespoke apps for retail, healthcare, banking & finance, e-commerce, education, travel and tourism, marketing and sales, and many more industries.
Be it a native application or hybrid application, hiring our team of skilled and professional app development teams lets your app talk with your targeted audience. We can create flawless Google Drive, Google Translate, Mailchimp, and Evernote like intelligent apps on android, iOS, and Windows platforms.
Our experience and integrity in delivering mobile applications made us a reliable and the best Android and iOS developer in the USA, India, UAE, and other markets.
Let's discuss your project and together make your idea into an interactive application.