How Much Does It Cost To Develop Contact Tracing Apps like NHS COVID-19?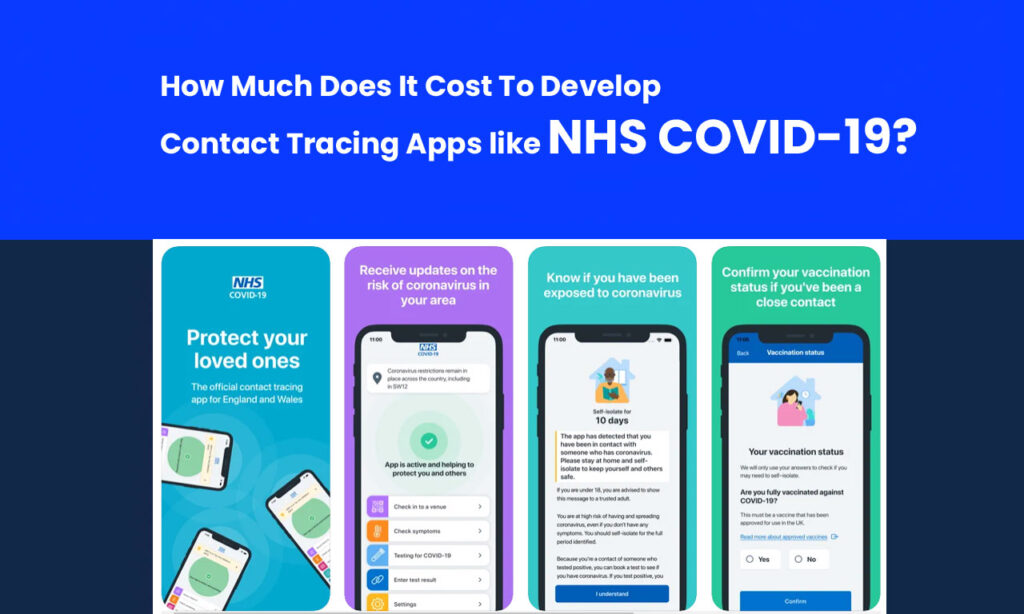 How Much Does It Cost To Develop Contact Tracing Apps like NHS COVID-19?
The global mobile apps downloads in 2020 have touched the sky and reached 218 billion, an increase of nearly 7% over 2019 and 54% of growth since 2016. Yes, the mobile apps industry is witnessing incredible growth in all global markets year over year.
Though the COVID-19 pandemic is the worst situation that has impacted the economic conditions of the markets across the world, it has opened doors for the development of mHealth, infection tracking, or other fitness apps.
From the 1st quarter of 2019 to the second quarter of 2020, the installations of the mHealth apps have increased from 488 million to 656 million. Here is an image that depicts the growth level of healthcare applications.
This increase is primarily due to the pandemic created by the deadly coronavirus. The continuous lockdowns covid-19 made people stay at home and use healthcare mobile apps for doctor appointments, medicine orders, and also to track their fitness.
Being the top mobile app development company, we observed that there is rapid progress in the development of android and iOS apps that connects healthcare service providers with the people, let people track red zones, and reduce the spread of coronavirus.
Even though there are plenty of apps available worldwide, we picked NHS COVID-19 mobile app as the best application that alerts users to know the level of COVID-risk in their surroundings or nearby districts.
About NHS COVID-19 app
NHS COVID-19 is a contact tracing app used to monitor the spread of the COVID-19 in England and Wales. It is launched in September 2020 and is available on Android and iOS app stores for download and use.
The app created a sensation in the UK, with nearly 10 million installs in the first three days of its launch. By the end of 2020, it has grabbed the attention of approximately 20 million downloads in the country. These vast download rates made NHS COVID-19 and stood as the second-largest app with high downloads during the year.
The app ensures the best performance across UK borders in England, Wales, Scotland, Northern Ireland, Jersey, and Gibraltar. It will accurately trace all nearby contact tracing app users and alerts them if it finds people with COVID positive.
It is available in English, Welsh, Arabic, Bengali, Chinese, Gujarati, Polish, Punjabi, Romanian, Somali, Turkish, and Urdu languages.

Other information
App installs : 10,000,000+
App rating on Google Plat Store: 4.2/5
App rating on Apple App Store: 4.7/5
Android Compatibility: Requires Android 6.0 and up
iPhone Compatible version: Requires iOS 13.5 or later.
Price: Free-to-Download and use
Offered by: Department of Health & Social Care
The Best Features Of UK-based Famous Contact Tracing App Like NHS COVID-19
Trace: This feature is for detecting other app users who tested positive for COVID.
Alert: the app sends notifications if the users enter into COVID zones or close to COVID contacts and reduce the level of viral risks in your areas.
Check-in: The app's QR code scanner is used for check-in to venues like restaurants and other malls. It alerts app users if there is a chance of contact with coronavirus in those places.
Symptoms: NHS COVID-19 is also best for checking symptoms of COVID, if any, and recommends a test if needed.
Test: This feature is to help the app users to book a slot for COVID-test in the nearest locations if needed.
Isolate: This feature helps users in tracking self-isolation days and also gives suggestions related to the isolation process.
If you plan to develop an NHS COVID-19 contact tracing app in the USA, India, and other locations, USM is the best app development partner for you. We create bespoke mobile healthcare applications for global customers. Our app development experts with hands-on experience in cutting-edge technologies such as artificial intelligence and the best programming languages develop applications that hit the app stores.
Get a free quote for your app project!
Now, we will go through a small brief on the most popular and trending COVID Tracing apps in the USA.
The Best Alternative Apps To NHS COVID-19 in the USA
Here are the top 6 contact tracing mobile apps in the USA.
Crush COVID RI
It is best for tracking COVID-positive candidates in Rhode Island. It provides the people of Rhode Island a seamless way to track coronavirus symptoms, find vaccination centers, view vaccine records, and COVID-19 testing and treatment advice. It is available on android and iOS app stores.
COVID Defense
It is another popular contact tracing application in the USA. It is developed by the Louisiana Department of Health to reduce the spread of deadly coronavirus in Louisiana. The app sends alerts to the users if they are close to people who tested positive for coronavirus and protect themselves from infection. It is a free-to-downloadable app and is available to download on Google Play Store and Apple app store.
COVIDSafe
COVIDSafe is a highly downloading COVID app in the State of Washington, USA. It can accurately detect contact with infected people within seconds. It uses Bluetooth technology for pairing other users of the app and sending notifications reading close contact information. This application has got nearly one million downloads since its launch in April 2020.
Get the development cost of COVID tracing apps like COVIDSafe in the USA!
COVIDWISE
It is one of the popular COVID notification apps developed to reduce COVID spread in Virginia, USA. With a 4.6/5 rating in the Apple app store, this application is popularized in the USA.  It is a free-to-downloadable app with great compatibility on both android and iPhones.
Users can anonymously share positive reports and save the community from Coronavirus. This application is best used in commercial spaces, K-12 schools and higher education premises, religious spaces, and others to track the COVID people with ease.
SlowCOVIDNC
SlowCOVIDNC is offered by the North Carolina Department of Health and Human Services (NCDHHS) to protect North Carolinians from COVID. It sends notifications to the users when they are near COVID contacts. By enabling the users to share positive test reports through the app, NCDHHS is planning to break the chain.
What to know the development cost of contact tracing apps in the USA?
Protect Texas Together 
Protect Texas Together is an application developed to reduce the spread of infection in Texas. Symptom survey, campus access pass (to verify you are COVID negative while entering a campus), COVID-19 test reports, Check-in, news on local COVID-19 conditions are the cool features of this application. The app is available for Android and iOS users and can be accessible in English and Spanish languages.
Similarly, Care19 Diary application (for Wyoming, South Dakota, and North Dakota locations), COVIDAlert app (for breaking COVID chain in Pennsylvania, Delaware, Michigan, New Jersey, Connecticut, New York), and PunchAlert COVID contacts tracking app for people in Georgia are a few of the best contact tracing mobile apps in the USA.
Benefits of COVID Tracing Apps Development for Healthcare Industry
Even though contact tracing apps are not only the solution for COVID disaster, they are very much helpful for controlling the further spread of coronavirus.  Contact tracing apps development reduces the pressure on the healthcare sector and helps people stay away from people who tested positive for COVID.
When the infection rate is rapidly increasing, the development of COVID contact tracing apps helps people protect themselves, their families, and the community from viruses. It is a resourceful solution to notify users regarding contacts, test centers, vaccination spaces, laboratory reports, and tracking symptoms.
Contact tracking apps also enables users to monitor COVID pandemic in their respective locations and stay safe and lessen the burden on the healthcare sector.
How Much Does It Cost to Develop Most-downloading Contact Tracing Apps like NHS COVID-19/COVIDWISE/COVIDSafe in 2021?
The approximate development cost to build an app like NHS COVID-19 will be impacted by the below factors.
NHS COVID-19 like contact tracing apps development needs to integrate advanced technologies to detect and alert the users when they are in close proximity to the infected persons. These applications also need to be added with quick trace, check-in, symptoms tracker, and alert features.
The development of such advanced features might increase the cost of applications. Each feature will take more time to develop and will lead to an increase in the final development cost of apps like NHS COVID-19.
Being the best mobile app development services company in the UAE, USM builds best-in-class NHS COVID-19 clone apps on demand. With our experience and required mobile app development resources, we develop your application in a short time and you're your business grabs the market opportunities.
The size of an app impacts the conversion rates of the targeted audience. If the size is too big, it needs more space to store and run. So, users do not like to install on their smartphones. The size of any application should be a reasonable file size to download on the user's device. It means that the app should consume limited storage space and ensure seamless performance on their devices.
The app size is directly proportional to the features and functionalities that we add to the application. The app size of the NHS COVID-19 like contact tracking app on the iOS platform is 16.3 MB, and on Android, it is 9.8 MB. So, in the first phase, develop the application with a few vital features. It will reduce the app size and increase the installation rates.
NHS COVID-19-like healthcare app development cost will also depend on the platform you choose for developing your application. We mean to say that the development cost of the mHealth app on android will vary from the cost to build an app on the iOS platform.
We, being the best mobile app developers, based on the mobile statistics of your target audience, suggest enterprises choose either the iOS platform or the popular Android platform for building mobile apps. The cost factor amid android app development and iPhone app development slightly varies based on device user's percentage, device compatibility, and submission rules and regulations of the app stores.
Yes, it is also one of the crucial factors to consider while estimating the cost to create an app like NHS COVID-19. App development companies with adequate resources can develop your app faster with less time and less weight on the final app costs. Because mobile app developers with a skill gap in teams need to hire resources. It will add those expenses to the final app development costs.
So, it's a wise choice in selecting the best mobile app development services provider in the UAE for contact tracing app development.
Talk to our app development experts regarding the approximate development cost of the contact tracing apps like NHS COVID-19.
Wrapping Up
This article might be useful for enterprises that are in plans to develop best-in-class contact tracing apps. This article comes across app features, functionalities, cost impacting factors, alternative apps to NHS COVID-19, and advantages of developing COVID apps.
USM Business Systems, one of the best mobile app development services providers in the USA, India, UAE, provides end-to-end app development services. From app ideation, planning, and design to development, testing, and maintenance, USM offers 100% reliable services throughout the app development lifecycle.
By reducing a full-fledged app development time to nearly 40%-50% than our rivals, we crowed with a title as Fastest Mobile App Development Company. By delivering projects on time or before actually promised deadlines, USM helps you embrace the market demand for apps like NHS COVID-19 and let your business generate 50% of added revenues.
Get in touch!