How Much Does it Cost to Develop A Chatbot App?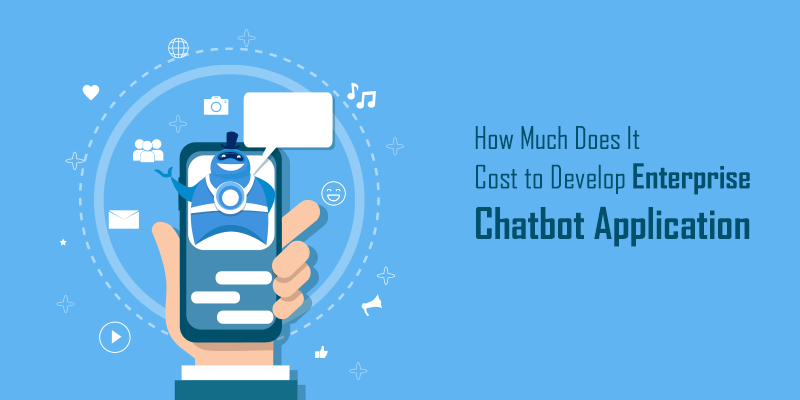 How Much Does it Cost to Develop A Chatbot App?
Chatbots are intelligent tools that interact and respond to customers' queries like humans. These save a lot of time and money invested in providing 24*7 customer services.
Using Artificial Intelligence (AI), Natural Language Processing (NLP), and Machine Language (ML) languages, Chatbot apps instantly interpret user queries and respond in seconds. Further, the emotional intelligence of AI in bots detects the feelings behind the user messages and generates a matching response.
An online survey states that by the end of 2021, over 80% of businesses are expected to deploy chatbots apps. Hence, there is a high demand for chatbots, especially across eCommerce, healthcare, financial, insurance, travel, and telecom Industries.

Types of Chatbot Applications
It is important to differentiate the various types of chatbots available in the market to choose the appropriate one for your business. Here, we have listed three major types of chatbot apps that are best to integrate into existing mobile apps or web-based applications.
These are an advanced type of chatbots that uses the Artificial Intelligence and Machine Learning for self-learning. The bots upgrade the response system regularly depending upon the previous conversations. They ensure better customer satisfaction and provide a human-like conversational experience.
The rule-based chatbots use if/then logic to provide helps to users in clarifying their queries. These bots detect certain keywords in the user questions and validate them with many other questions and pre-defined answers to give an accurate reply to users.
Menu or Button-Based Chatbots
The structure of this type of chatbot is quite basic and widely used because of its simplicity. These bots offer several options in the form of a menu or buttons to the users and respond depending upon the user selection. However, these bots disappoint the users when the mentioned options do not match the query.
Best Features of Quick Responding Artificial Intelligence Chatbot Apps
The features included in the application rely on the needs of businesses. In this section, we have listed basic features that every business seeks to incorporate in their chatbots.
Keep an easy-to-use user interface or app design that can make your chatbots more engaging and appealing to the customers.
Conversational Maturity with NLP
Chatbots understand the user queries or the conversation and provide accurate responses using the power of Natural Language Processing (NLP) technology.
Chatbot with Emotional Quotient (EQ)
The emotional quotient (EQ) is an integral part of AI chatbots. It assists the bot in detecting emotions and tone in the customer query and responds appropriately like humans.  Hence, this feature provides a personalized user experience to customers.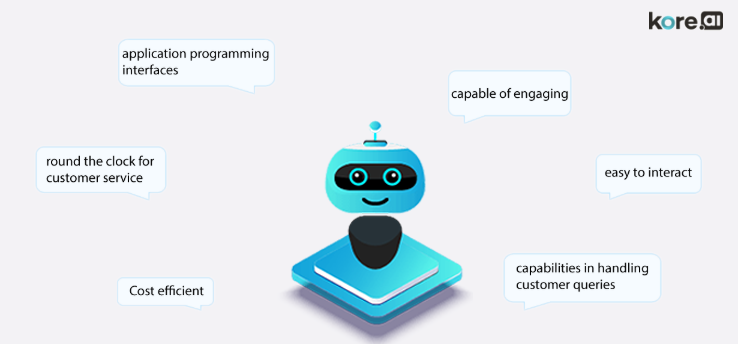 Tracking the location of customers will help the chatbots to give more relevant responses during the conversation. For instance, they can provide the contact number of the sales executive of a nearby branch to users.
Free to Explore Solutions
Chatbots are capable of exploring vast data and find relative answers to customer problems. It can analyze the existing solutions from different sources for sending accurate responses.
Payment system integration
This feature suits for e-commerce chatbots to create secured payment methods.
Are you looking out for a chatbot application for your business?
USM is the best mobile apps development company in the USA. We develop custom AI apps for enterprises. Our chatbot app development services fuel your business growth and reform the way you interact with your customers.  
Benefits of Interacting Chatbot apps for Your Business
Better Customer Experience
The ultimate advantage of chatbots is that they respond 24*7 instantly and ensure improved customer experience.
Apart from answering questions, bots automate the end-to-end sales process. Chatbots are the approach for brands to strengthen relationships with customers.  By analyzing consumer purchasing patterns and search patterns, marketplace chatbots generate leads for businesses. In this way, they help businesses to engage customers and make more sales.
Insight Into Customer Behaviour
Businesses can get valuable insights into customer behavior from chatbot conversations. Based on the customer queries, businesses can identify which products have more demand in the market. It helps to make market strategies for promoting goods and also optimize the chatbot content to provide the best answers.
Use Cases of AI  Chatbots in Business
You can book or schedule the appointment automatically with AI bots. When users book an appointment, it creates an event and sends reminders to both the customer and business representative. These bots are also available in the travel, recruiting, and entertainment industries.
Customer Support Chatbots
Customer support is the basic service of chatbots, and you can find these types of chatbots on every website. The features like availability, live chat, and quick response make them an ideal tool for customer service.
Chatbot Use Cases in Marketing
To generate leads, collect customer emails, simplify product prices to customers, most businesses are deploying chatbots across their marketing channels.
These intelligent chatbots improve audience engagement by giving personalized recommendations of events, shows, and movies.
Are you looking for chatbot apps developers?
USM has over two decades of industry experience in custom chatbot apps development. Get in Touch!
Cost to Develop an AI Chatbot Application
Now you know about all the benefits and use cases of chatbots, it's time to check the cost to build a chatbot application for your business. The approximate cost to develop your bot with minimum functionalities cost around $30,000 to $80,000.
This estimated cost might vary based on the app's platform (Android, iOS, Windows), App User Interface, app features, development team size, and location of mobile app developers you choose.
Conclusion
Chatbots are exciting and innovative tools to upgrade the customer experience. These give instant responses to the users and engage them like humans.
Build your Business Chatbot with Top Chatbot Development Company
Being the best mobile apps development company, USM develops full-fledged chatbot apps within your budget.