9 Most Popular Online Food and Beverages Delivery Mobile Apps in the USA
9 Most Popular Online Food and Beverages Delivery Mobile Apps in the USA
How many of you would prefer to visit a restaurant and eat delicious dishes with your loved ones?
Wait. Before answering the above question, here is another bullet for you.
How many of you would prefer to order food online and stay safe from deadly coronavirus?
I think 90% of us wish to go out and enjoy our delightful dinner time outside with family or friends if everything is normal. But, the COVID pandemic across the world has altered everything. No meetings, no parties, no-get-together, and all.
So, nowadays, instead of booking a dining table in a restaurant, 95% of people switch to online food ordering apps for ordering food or beverages conveniently from the home and get them at their doorstep within minutes.
This trend has opened doors for increasing downloads of online food ordering applications. In particular, due to the high usage of food ordering apps in the USA, online food delivery service apps development is expected to unlock wide market opportunities for food delivery companies.
In the USA market, the use of food delivery apps is increased to 78% in 2020 from 53% in 2019. The value of the online food ordering apps market is $45 billion during the year and is expected to increase by 12.2% in 2022.
Statista also reported that nearly 185.1 million users installed food delivery apps on their devices. Such an attractive number is encouraging foodservice providers in the USA to invest in food delivery apps development and grab the profitable business node in the country.
Market Share Of Online Food Delivery Companies In The United States, 2021
The online food delivery apps market in the USA is overwhelming with hundreds of food delivery companies. With nearly 55% of the market share, DoorDash food delivery application is in the leading position.
Followed by Uber Eats app with 22% and Grubhub app with 17% of market share have occupied second and third-largest food delivery companies in the USA.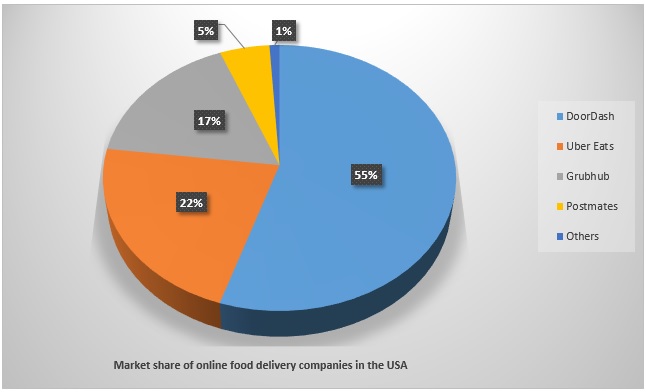 In this article, we have also curated the list of the trending and best online food delivery apps in the USA. If you are in plans to develop food delivery apps for android and iOS, this article would help you to choose the best mobile application and guide you in the food delivery service apps development.
Let's start.
9 Most Downloading and Tending Online Food Ordering Apps In The America
#1. DoorDash- No.1 food delivery service app in the USA
DoorDash has got the title of the most used food delivery service app in San Francisco. This food and alcohol delivery app are also available for users in other cities of the USA and Canada. Its easy-to-use and convenient features, making the application more user-friendly.
This trending food delivery service app delivers starters, soups, and snacks to the main course from the restaurants the users choose.
Users can also get groceries at their doorstep if they have the DoorDash app on their devices.
The best thing about this app is that it is also popularized as the best alcoholic beverages delivery application in the USA. It gives the users flexibility to choose from either self-pickup or door delivery options.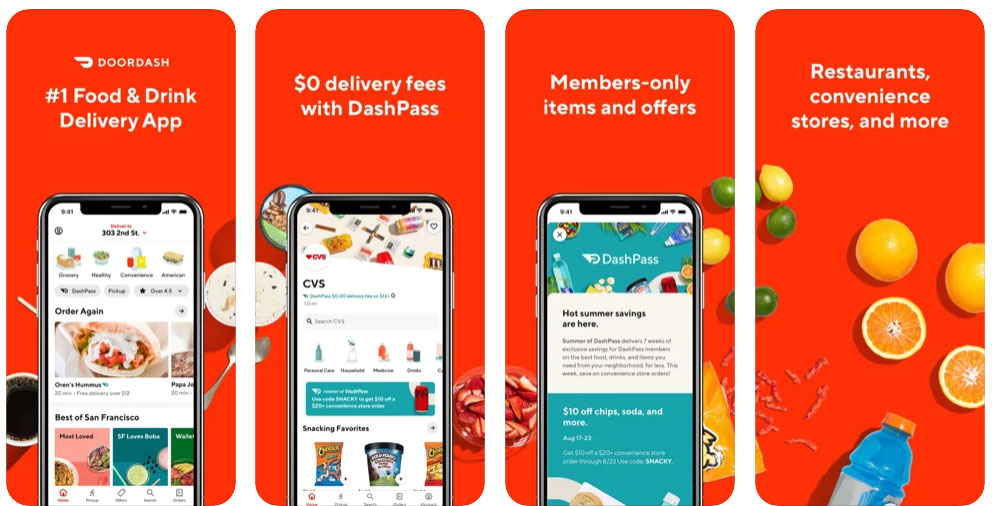 The app is available on Android and iOS app stores and has a 4+ rating on both stores.
USM's expert mobile app developers in the USA design full-fledged and bespoke food delivery service apps like DoorDash.
#2. Uber Eats- A popular online food ordering application in the USA
Uber Eats is the second largest online food delivery services app in the USA. It is the most used food delivery service application in Miami, Atlanta, Washington D.C., Dallas, Boston, Chicago, and many other cities in the USA.
It is also a famous food ordering mobile app in many cities across India, United Arab Emirates (UAE), Spain, Japan, France, United Kingdom, Russia, Africa, and many more.
The app offers users a convenient and hassle-free way to order spicy pizzas, fluffy burgers, local cuisines, tempting dishes, chilled drinks, and many more with just simple taps.
A list of hundreds of local restaurants, real-time order tracking, multiple and zero-contact payment options, delivery under 30 minutes, and exclusive discounts and promos on every order are a few of the attractive features of the USA's famous food delivery application.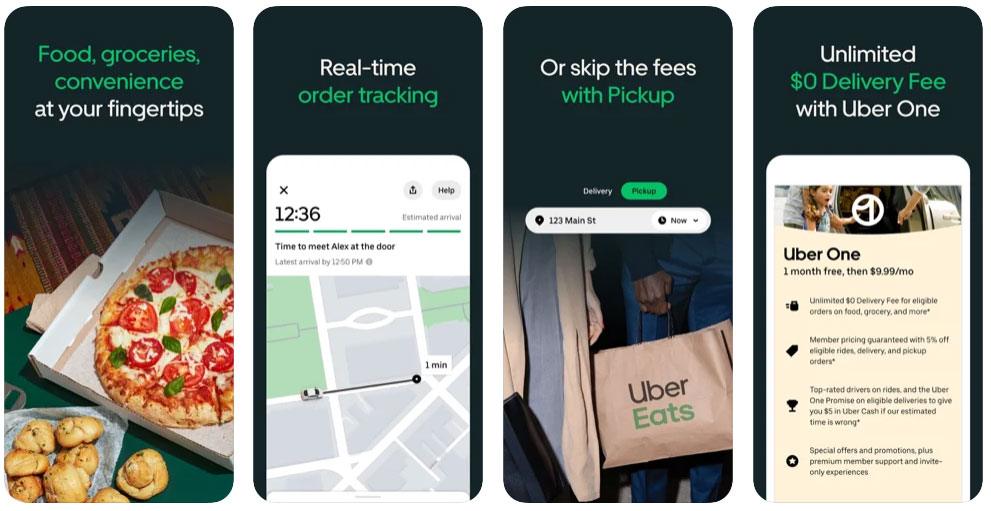 USM Business Systems, a leading mobile apps development company in the USA, with expertise in android apps development, iOS apps development, and web apps development, create best-in-class safe food delivery apps.
Would you like to know the cost to develop on-demand food and drinks delivery service apps like Uber Eats?
#3. Grubhub- the best food delivery app in the USA
Grubhub is one of the largest online food delivery companies in the USA. Like other online food ordering apps, it also allows users to pick up or get door delivery from thousands of nearby restaurants to get food faster.
Its user-friendly User Interface (UI) is one of the prime reasons for its success. It helps users explore and search for restaurants and food items with ease. Another outstanding feature of this popular food delivery application in the USA is its customizable filters. The app has nearly 30 filters that help users' search hassle-free.
Location tracking, rider tracking, estimated time to food delivery, instant messages on food preparation status, local deals and offers, and restaurant ratings are a few notable features of the Grubhub application.
It is a free-to-downloadable application. It is available on the Google Play store for android users and the iPhone app store for iOS users.
Are you a food service provider and planning to develop an app like Grubhub? Then, approach reliable and top food delivery apps development services providers in the USA.
#4. Postmates- The best android and iOS-based food delivery application in the USA.
It is one of the top five (5) online food delivery applications in the USA. The application serves in over 3000 cities in the United States.
Through the Postmates app, users can order food, grocery, and alcohol and get them right away from their favorite restaurants, groceries, beauty brands, and retail outlets in minutes. Order tracking, notifications on food arrivals, and zero-contact delivery and fast pickup are its highlights.
The app is offered by Uber Technologies, Inc. and its free version of this app is available on android and iOS app stores. Currently, Postmates-a safe and zero-contact food delivery app has 10,000,000+ installs.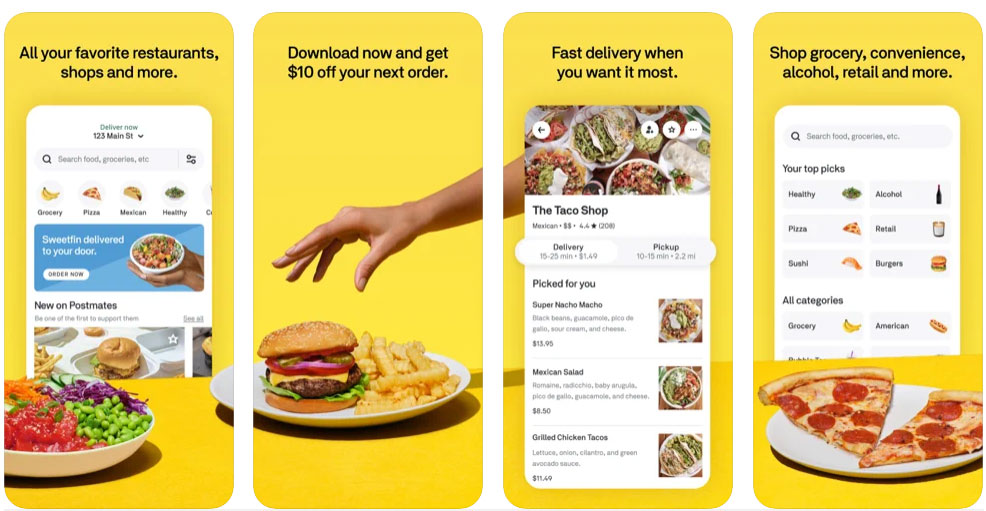 Would you like to build a clone of popular native or hybrid food delivery apps like Postmates?
#5. Seamless- Most popular Food Delivery App In The New York
Seamless is another top-rated online food delivery application in the USA. It offers food delivery services to customers across New York cities, including Manhattan, Brooklyn, Queens, the Bronx, or Staten Island.
It allows users to order mouth-watering food, desserts, beverages, and many more with simple clicks. Its exclusive deals on first orders or premium subscriptions are success pillars for this app.
Moreover, the app also popularized in the USA's online food delivery market with its out-of-the-box discounts on food orders.
The cool feature of this popular food delivery service application in the USA is its Express Reorder feature. This feature allows users to click on the previous order and move straight to checkout. Such features offer hassle-free food ordering options.
Like eCommerce or marketplace apps in the USA, this application featured Seamless eGifts Cards. These cards allow users to gift delicious food to their loved ones. The app is available on both android and iOS app stores. It has over a million app users.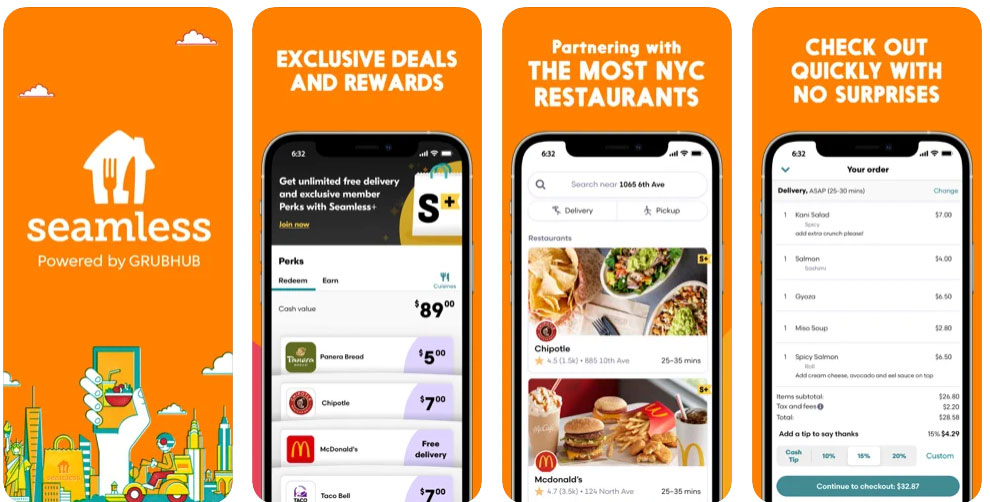 Talk to our app development consultants and know the cost of food delivery service apps right away.
#6. GoPuff- A top food delivery app in the United States of America with over 1 Million App users
It is popular for its alcohol and food delivery or takeout services in the USA. It also ranked as the fastest grocery or home essentials delivery app in America. The native versions of the app are available to download on both Google Play and iPhone app stores.
It delivers snacks, protein0rich energy drinks, juices, delicious ice creams, food items, and beverages to grocery and cleaning products from local brands. Chilled beer and wine will also be delivered in the selected markets. Users can also order first aid products and get them instantly in an emergency.
The flexibility of multi-payment ways, including debit or credit cards (Visa, American Express, MasterCard, and Discover), Apple Pay, Google Pay, and Venmo, and many more made GoPuff a user-friendly food delivery app.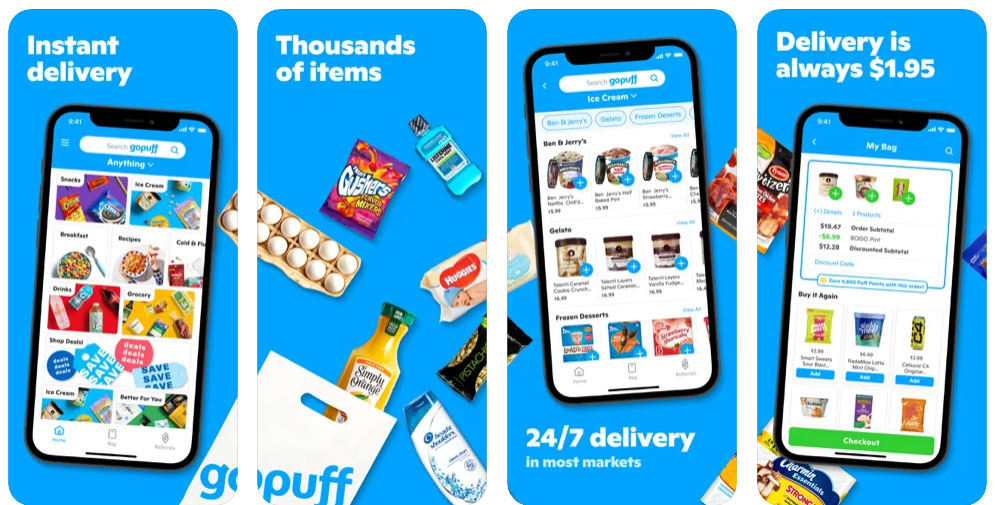 Are you looking to develop GoPuff-like biggest food delivery network?
USM, the best mobile app developer in the USA, is here. We provide world-class mobile app development services to customers across the world. Be it android app development or iOS app development, USM's dedicated app development team develops feature-rich mobile applications that fuel your business growth in a short span.
#7. Munchery- Fresh Food Delivery Application in the USA
 Munchery delivers chef-cooked fresh food items at the doorstep. With a blend of seasonal ingredients, it focuses on delivering taste-rich food without compromising on nutrition benefits.
Fresh salads, starters, beverages, protein-rich meals for kids, and many more will be delivered in minutes. The advantage of the Munchery food delivery application is that users can order meals now and schedule their delivery date for any day of the coming week.
USM is a leading android app Development Company in the USA and a reliable app development partner for brands and SMEs in the country. We also specialized in iPhone app development and web application development services.
Get expert consultation for free and know the estimated cost of America's leading food delivery service apps development.
#8. Delivery.com
Delivery.com allows users to find their favorite local restaurants and order food 24*7. It accepts orders of food, alcohol, groceries or laundry, and gifts cards. The app also offers Delivery Points on every purchase and allows the users to redeem them for their next orders.
Pickup or delivery, scheduled delivery date, reorder, group orders, and deals and promo coupons are a few of the best features of food delivery apps like Delivery.com.
The app serves hundreds of cities in the USA, including New York, Chicago, Los Angeles, San Francisco, Boston, Washington DC, Philadelphia, Burlington, Lansing (Michigan city), and many more cities.

#9 Eat24- Delivers Food 24 hours and 7 days
Eat24 is partnered with many restaurants and cafes located across the USA to make its brand available to its customers 24*7. It is one of the trending and fastest food delivery services applications in America.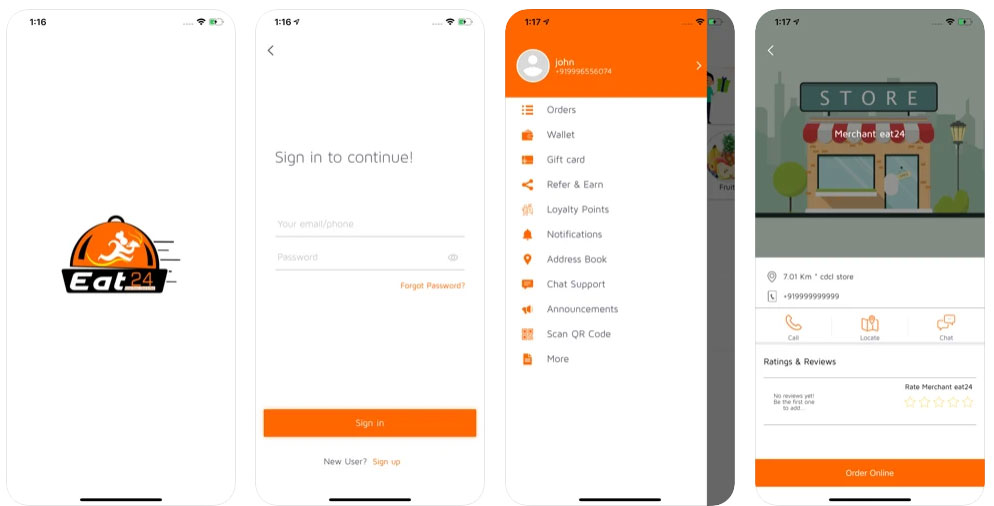 Though there are many food delivery apps for iPhone/iOS and android Eat24 is famous for its wide range of cuisines or fast foods.
Want to build a clone of Eat24? Get a free app quote right now!
Conclusion
We hope that the article well engaged you to find the best and on-demand food delivery services apps in the USA.
If you are a food delivery service startup company and planning to invest in android and iOS-based food delivery service apps, you are in the right place. We are experts in food delivery apps development.
Let us know your app idea, and we create a bugs-free food delivery application that accelerate digital transformation in your foodservice business.
Get In Touch with the best mobile app development company in the USA!