How Much Does It Cost To Develop An E-learning App In 2023?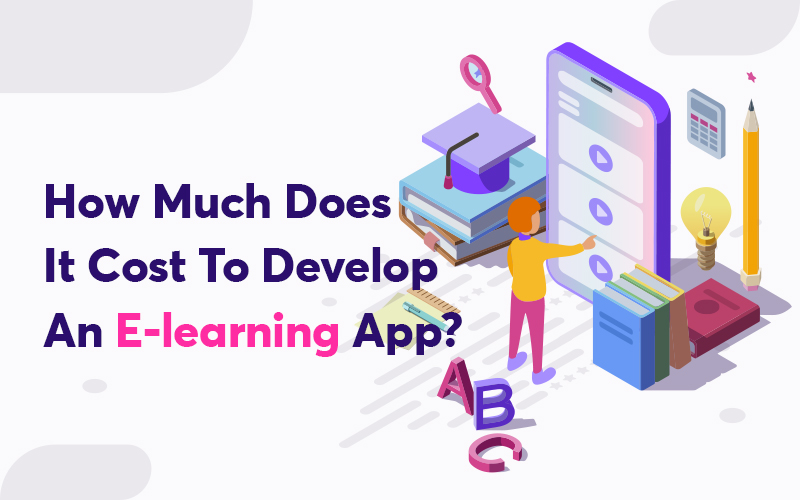 How Much Does It Cost To Develop An E-learning App In 2023?
Since the COVID pandemic, the education industry has completely transformed its mode of service. The industry has adopted the power of innovative mobile technologies. The need and demand for online learning applications in the era of COVID to break the infection chain, especially during the 2019 and 2020 years.
The trend of online learning apps has been continuing since the outbreak of coronavirus. An education app for Android or iOS is a digital platform that connects instructors and learners to share and gain knowledge virtually.
The best mobile apps for education sector will help aspirants in many ways as a teacher does in the classroom. The convenience and comfortable experiences in learning concepts or subjects will take digital learning to new heights.
However, as the demand for education apps is increasing at a rapid pace, the Google Play Store and Apple App Stores are flooding with numerous e-learning apps. Of such a massive crowd, a few education apps are developed for learning academics, a few other educational apps are for learning tech courses, and a few mobile learning apps are for preparing for competitive exams.
We have also online learning apps that are engaged in assisting users in learning new languages. Likewise, the app stores have hundreds of online education apps.     
Advantages Of E-learning Apps Development For Businesses 
The benefits of mobile educational apps or online learning platforms are incredible for learners as well as educational academies. Here are a few advantages of educational apps development.
Eliminate offline learning difficulties and improve services
Always stay in touch with learners.
Educational academies can improve student-to-teacher interaction.
No pandemic can stop you connect with your students or learners.
Downloading e-learning applications on the smartphone will help your audience grab knowledge 24*7 and use their study hours efficiently.
Enhance user personalization and improve their skills
Educational apps development will improve productivity.
Management can have better control over students' learning.
Educational institutes can pay attention to the needs of learners.
Eliminates paperwork and digitizes maintenance of attendance and progress tracking reports
Gain profits through implementing app monetization strategies, such as in-app brand advertising, subscriptions, and redirecting to other online services.
Are You Interested In mLearning apps development?
Let's talk to our mobile app developers, discuss requirements, and get a free app quote!
The Demand & Future Of Online Education Apps Development
The demand for online mobile learning apps during the COVID pandemic is high. The education apps for Android and iPhone have played an integral part in the education ecosystem in hard times.
Global education academies and training institutes are all increasingly invested in online educational apps development to survive profitably during the pandemic. They have altered their medium of service deliveries and switched to online.
Google Classroom, Khan Academy, Coursera, Duolingo, Byjus, Udemy, edX, and Photomath are all top 10 educational apps In the USA and other markets. These educational applications for Android and iOS have encouraged learners to grab the knowledge and explore the skills that they desired to learn.
The e-learning industry, with the availability of these kinds of best online learning apps, is ensuring better access to education, improving education applications, and confirming a bright scope for its future.
Statista says that the COVID-19 pandemic is a primary reason for the increasing downloads of mobile learning apps over the past three years. Over 470 million e-learning apps have been downloaded by iPhone users from the Apple app store.
On the other side of the coin, with 466 million downloads recorded, Google Play is stood as the second-largest app store for educational apps.
The below figure depicts the growth of mobile education app downloads between 2017 and 2022.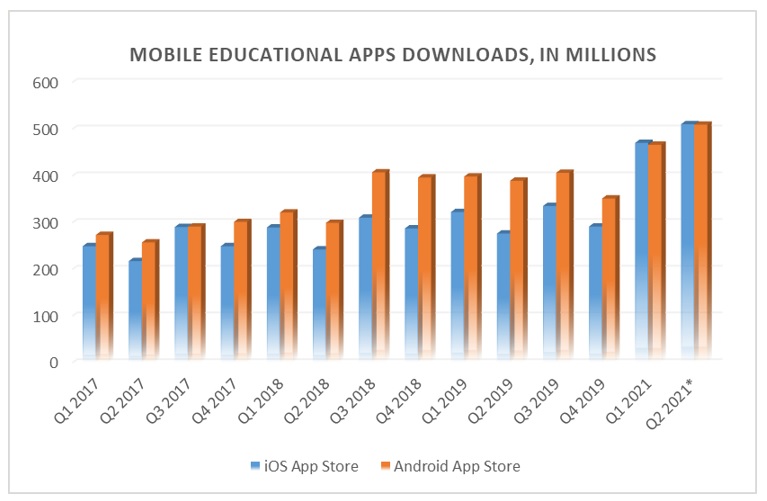 The above figure represents the ever-growing demand for online mobile learning apps. Hence, e-learning app development on Android or iOS platforms will ensure the best business outcomes for companies.
Top Educational Apps In The USA
Here is the list of the best e-learning platforms USA.
Google Classroom and Toca Life World, and Duolingo are the first, second, and third-largest e-learning apps in the world. These three mobile education apps together reported 208 million downloads during 2021. Followed by Brainly and Photomatch with 64 million and 46 million app downloads are the next leading online learning platforms worldwide.    
Let's look at the most popular learning and education apps by category in the world.  
Best Educational Apps For Android & iPhone By Category
The best online learning apps for preparing the competitive exams: DrMentors Medical PG app, Indigolearn, Unacademy
Coursera, Simplilearn, and Udemy are top popular education apps for Android and iOS for learning technology-related courses.
BYJU's, Brainly, Khan Academy, and Toppr are the most-downloaded educational apps in USA and India for College Board students. These applications assist students in preparing for IIT-JEE, CA, and NEET-like competitive exams.
Duolingo, Babbel, and MasterClass are the best online learning apps for learning new languages.
USM Business Systems is the best mobile app development company in the USA. We are engaged in the design and development of custom mobile apps on Android and iOS platforms. We have also strong proven experience in creating best-in-class software for web apps that better engage your audience.
Let's Talk For Google Classroom-like Online Learning App Development!
If you are looking to develop educational apps, here are the features and functionalities that you must add to your new application. 
Must-Have Features Of An eLearning App
Here are a few features that mobile app developers must consider while creating educational apps.
East registration and quick login
User profile management feature
Social media login facility
Search and customizable filters for selecting courses or subjects
In-app video and audio facilities
Push notifications
Quick subscription plans
In-app e-wallet integration
Secure payment gateways
In-app chat facility
Task automation, AI, AR, and VR technology-enabled features to enrich the learning and app experiences.
How Much Does It Cost For E-learning or Online Educational App Development? 
The mobile application development cost depends on various factors, including features, functionalities, app requirements, design complexity level, and development platform/operating system. Based on these factors, mobile app development companies USA will estimate the app development price.   
The cost to develop an educational app in 2022 will also depend on the industry experience of native or hybrid mobile app development agencies USA. The expertise of custom Android app development companies and iPhone app development companies that you hire will impact the total cost of education apps.
Likewise, app promotion, maintenance, and support services will also have an impact on the final price of native mobile app development.
USM, the best Custom Mobile App Development Company in the USA, has massive experience in delivering customizable Android, iOS, and web apps. With a proven experience with Byju's-like the best Indian education app development, we estimate that the cost of an e-learning app will range from $35,000-$65,000.
However, this cost might vary based on your app requirements. For instance, the best online learning app development with an in-app digital chatbot feature and virtual audio or video interaction sessions will go beyond the estimated price.
Hire the best e-learning mobile apps Development Company USA?
Conclusion
Since the COVID outbreak, Android and iPhone app stores are overwhelming with the increased number of downloads. According to market researchers, e-learning apps are the third most-downloaded app category in 2019, 2020, and 2021.
Mobile educational app development will provide unbelievable growth opportunities for institutes and training firms. The time has arrived to invest in online learning platforms.